The Metaverse Effect on Business Development is huge. Facebook founder Mark Zuckerberg has changed his company name to Meta to achieve his latest ambition of creating a 3-dimensional virtual world called the Metaverse. But what is the Metaverse?
To find out more about the Metaverse world, please refer to the following discussion, OK!
In Metaverse, too, you can build public facilities such as malls, offices, schools, recreation areas to sell land/virtual stalls.
Therefore, getting as many people as possible to want to live in a virtual world is a dream that Metaverse developers want.
However, how can they create the virtual world? Of course, collaboration and technology from various companies are needed to realize the Metaverse.
The Metaverse Effect on Business and How the Metaverse World Works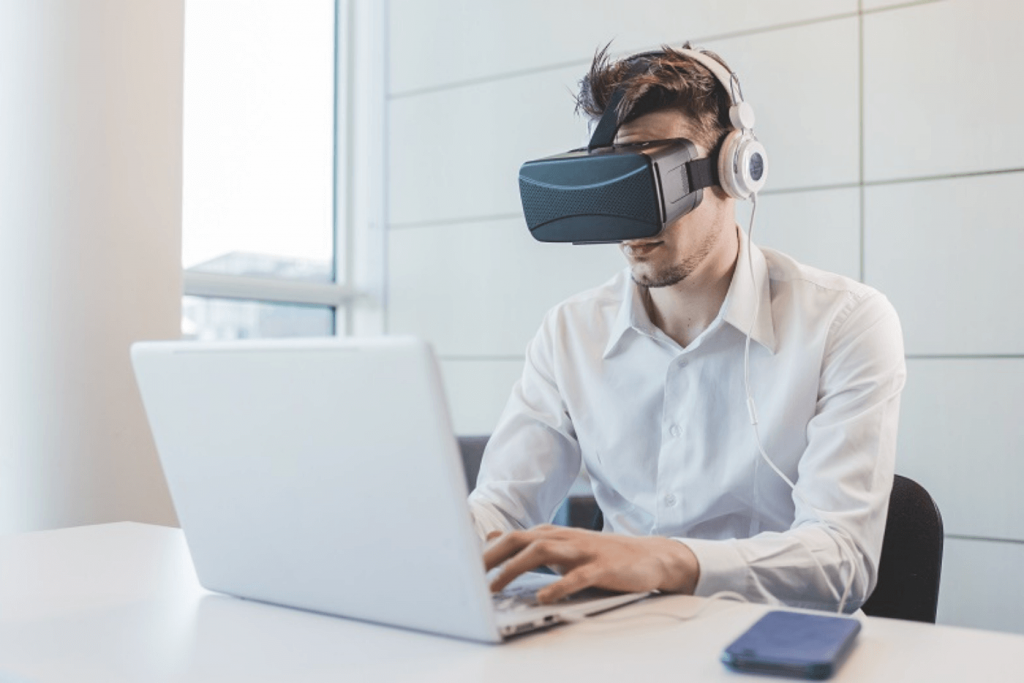 There are 3 Technological Components to Realize the Metaverse.
Augmented Reality (AR)
Augmented Reality (AR) is a technology that combines 2-dimensional and or 3-dimensional virtual objects and then projects these virtual objects into an environment and real-time.
Virtual Reality (VR)
Virtual Reality (VR) is a technology that allows users to interact with a computer-simulated environment, an authentic environment in the real world that is copied into the imagination in the form of a fictional environment.
Artificial Intelligence (AI)
Simulations of the intelligence possessed by humans are then modeled in machines and programmed to think like humans are artificial intelligence (AI).
Metaverse Development Program
The Metaverse is a collection of virtual spaces that you can construct and explore with individuals who aren't physically present with you.
The set of virtual spaces also opens up new opportunities and broader job opportunities.
In Metaverse, you can make a career and do business. You can create virtual museums, build malls and put up billboards. Collect fees and commissions from each visitor or sale that occurs.
If you're an architect, you could sell virtual home design services on Metaverse and work with a programmer to build the house for a client.
Not only that, but you can also build a car factory and sell the cars to the inhabitants of the Metaverse.
Metaverse will encourage free competition, there will be fair competition, everyone is treated equally, and only high-quality products will win the competition.
Parties Participated in the Development of Metaverse
There are 3 major players who are going to make Metaverse into reality.
META
Facebook changed its name to Meta to show its commitment to building the Metaverse.
The Meta version of the Facebook will be accessible through the VR device, Oculus, so that you can be anyone and anything in the Metaverse using that device.
MICROSOFT
Microsoft focuses on building the enterprise version of Metaverse, aimed at large companies or corporations that want to boost employee productivity.
WIR GROUP
WIR Group is a leading company and market leader in Southeast Asia in digital reality technology (artificial intelligence, augmented reality, and virtual reality).
WIR, which stands for We Indonesians Rock, Rise, and Rule, has been around for more than 10 years and produces programming and augmented reality technology innovations in more than 20 countries.
Metaverse Is Both An Opportunity And A Threat To Business
As the founder of the Facebook Company, Mark Zuckerberg introduced Oculus glasses to President Jokowi.
While visiting the social networking office, President Jokowi played virtual ping pong, but there were no actual balls and the ping pong table.
Overall, these Oculus goggles are shaped like diving goggles but are equipped with closed lenses.
These glasses will make the five senses feel the natural sensation in the virtual world environment with a virtual reality system.
Mark Zuckerberg also said that this is the beginning; everything will be virtual, everything will appear called the Metaverse, ranging from virtual restaurants, virtual offices, virtual tours, to virtual malls.
Public Service
Public services are all forms of services, both in the form of public goods and public services, which in principle are the responsibility and carried out by Government Agencies.
For example, complaints against an administration that occur digitally. The government wants to speed up the service process for the community to get convenience.
Tourism Sector
The tourism sector is one of the potential and strategic service-based sectors in developing the national and regional economy.
Development in the tourism sector will affect the development of other economic sectors.
If possible, Metaverse Indonesia wants to provide jobs by working digitally in the Metaverse world.
Conclusion
From the explanation above, we can determine what the Metaverse is and its effect on business development.
Metaverse will benefit society and can change the way we socialize, work and do business. So, is your business ready if the Metaverse world has been implemented?